Trunk 'r Treat
SATURDAY OCTOBER 30th
It's time for all the little goblins, ghosts, and ghouls to dress up for the spookiest day of the year. Fly your best broomstick over as Trick 'r Treaters and their families will walk between different social distant stations to collect treats, play games, and have some laughs. Sign up for one session today! Program will be outside weather permitting.
---
Reach for the Stars 2021
NEDSRA invites you to join us in celebrating another stellar year! This year's event will include limited in-person seating, a virtual watch party and a online streamed recording. Join us in a celebration of our award recipients, community supporters and everyone that makes NEDSRA a family.
In-person – lottery system

Wednesday, November 10th: 6PM – 9PM
Location: Medinah Shrine Center: 550 Shriners Dr, Addison, IL 60101
Vegetarian meals are available. Please request one from server.
Limited in-person seating is available through a lottery system. Lottery registration is available to participants, one paid guest per participant, and part time staff. Notification of lottery status will be made during the week of October 18. In-person event includes: Reception, Cash Bar, Elegant Dinner, Awards & Recognitions and a 2020-2021 Highlight Video. Participants can submit a registration for up to two tickets; one complimentary participant ticket and one guest per participant at $45. Staff can submit a registration for one complimentary ticket.

Virtual

Wednesday, November 17th: 5PM – 6:30PM
Location: Zoom: Email nedsra@nedsra.org for the secured zoom link
For those of you that can not make the in-person event, or wish to attend virtually, a Zoom Watch Party will be hosted by NEDSRA. Join in on the celebration with NEDSRA participants, staff and special guests as we all enjoy the Reach for the Stars celebration together from the comfort of our homes.
This will be offered FREE to all interested individuals. The online recording will be available via YouTube & Facebook on November 17th.
---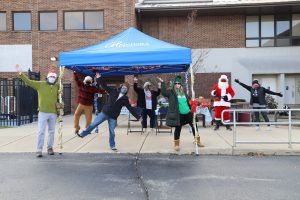 Holiday party with Santa
SATURDAY december 4th
Santa has scheduled a special day to start NEDSRA's holiday season off with a big Ho-Ho-Ho! The Big Man will join us after we spend the morning celebrating the season by creating some arts and crafts, and enjoying a delicious hot lunch. Santa's been dropping some hints that he will even be handing out presents to the good girls and boys on his list! Be sure to join us for this popular event that is sure to get you in the holiday spirit. Sign up for one session today!
KRISTEN SEEFURTH
Marketing & Communication Manager
847.858.6700
kseefurth@nedsra.org
Ana salazar
Registrar
630.576.4010
asalazar@nedsra.org