Larry roesch/NEDSRA golf classic
Wednesday september 15th, 10:30am – 7:30pm
The Larry Roesch/NEDSRA Special Recreation Golf Classic was created from Larry Roesch's vision, dedication, and commitment to improve the quality of life for children and adults with disabilities. Since the inception of the Golf Classic, the Roesch family has continued the tradition; supporting this event and NEDSRA's programs, making even more recreational opportunities possible. As a result, Larry's legacy–the Special Recreation Golf Classic, now in its 28th year– lives on in the hearts and minds of all his friends. The Larry Roesch Family is a long-time champion of NEDSRA and people with disabilities. Please join us in supporting the Roesch Family and this fantastic event.
---
Trunk 'r Treat
SATURDAY OCTOBER 30th
It's time for all the little goblins, ghosts, and ghouls to dress up for the spookiest day of the year. Fly your best broomstick over as Trick 'r Treaters and their families will walk between different social distant stations to collect treats, play games, and have some laughs. Sign up for one session today! Program will be outside weather permitting.
---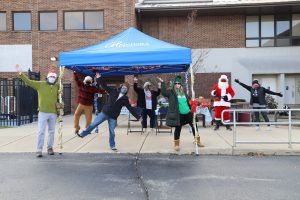 Holiday party with Santa
SATURDAY december 4th
Santa has scheduled a special day to start NEDSRA's holiday season off with a big Ho-Ho-Ho! The Big Man will join us after we spend the morning celebrating the season by creating some arts and crafts, and enjoying a delicious hot lunch. Santa's been dropping some hints that he will even be handing out presents to the good girls and boys on his list! Be sure to join us for this popular event that is sure to get you in the holiday spirit. Sign up for one session today!
KRISTEN SEEFURTH
Marketing & Communication Manager
847.858.6700
kseefurth@nedsra.org
Ana salazar
Registrar
630.576.4010
asalazarl@nedsra.org