NEDSRA SCHOOL BREAK CAMPs
Final eligibility for camp is determined by an assessment process and decision of NEDSRA staff. Registration will be accepted by email, mail and drop-ff. Online registration is NOT available for day camp. Fillable forms can be found at nedsra.org. Download the registration form, save to your computer and send as an email attachment to nedsra@nedsra.org. Upon registration, a camper assessment will emailed to you. NEDSRA staff will contact you to follow up to ensure your camper has a fun and successful time. A 30-minute in-person assessment may be required as part of the assessment process. Assessments will be used to determine a child's eligibility for camp based on current COVID-19 guidelines.
To view NEDSRA's Eligibility Requirements and Wellness Screening please visit click here. For information regarding camp placement or if you have any questions, please contact NEDSRA.
To register please contact Sean at sfritsch@nedsra.org.
Registration does NOT guarantee eligibility for camp.
CAMP REQUIREMENTS
Ability to maintain 6 foot physical distance from other participants and staff.
Ability to properly put on, wear, and take off face covering when necessary, for the duration of the program.
Independent personal care (hygiene, toileting, eating).
Participate with visual and verbal prompting within a ratio of one staff to four participants, without the need for physical re-direction.
Ability to follow NEDSRA Code of Conduct and other pre-determined guidelines.
Participant must have a current Annual Information Form on file.
SEAN FRITSCH
RECREATION COORDINATOR
630.576.4037
sfritsch@nedsra.org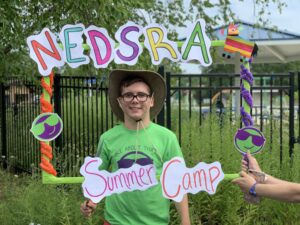 Click on each program to learn more!